18/8 Fine Men's Salon - For The Classic Man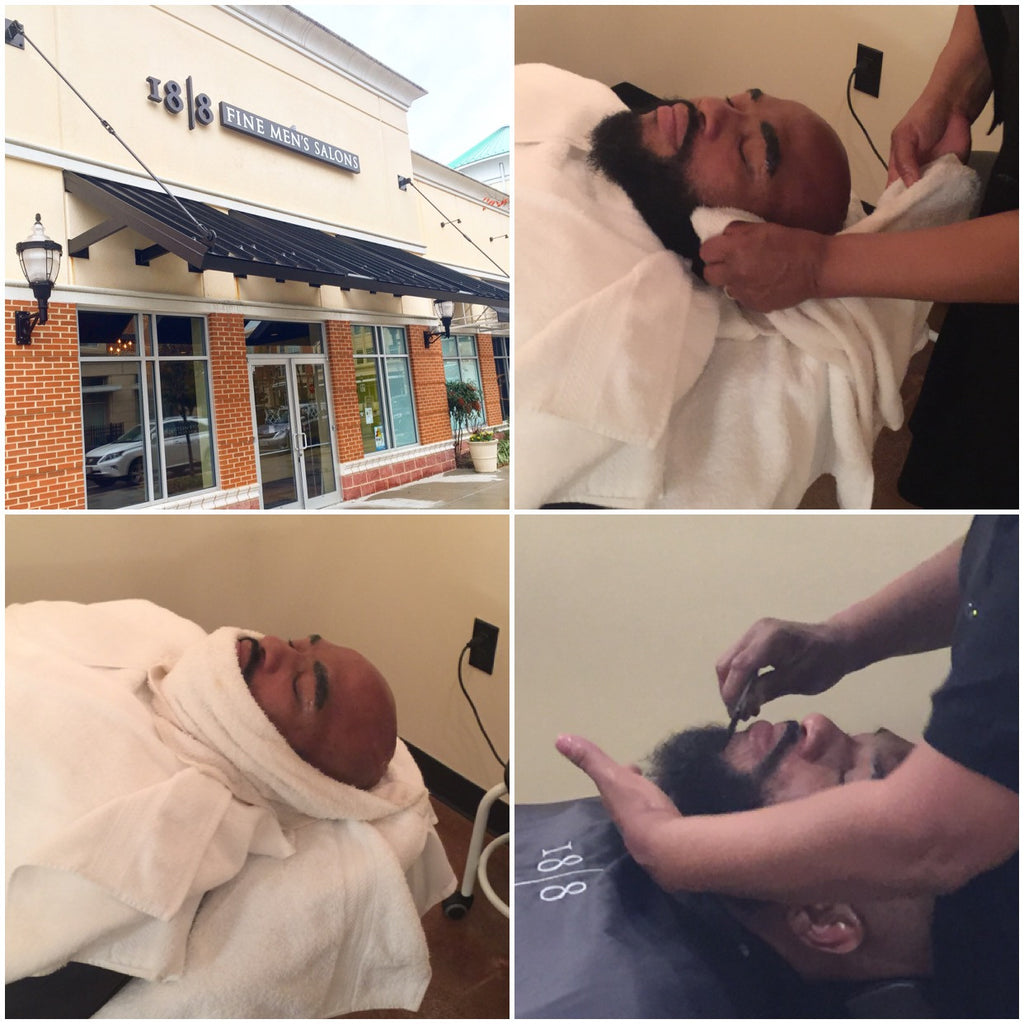 This blog is not a paid advertisement or a commercial for 18/8 Fine Men's Salon. I'm just sharing my experience from my hour appointment at 18/8 Men's Salon in Maple Lawn, Maryland. 
What is 18/8 Men's Salon? 
In a nutshell, it's a place for men to have a professional grooming experience different from your traditional barber shop in a spa setting catering directly to the needs of the classic man. 
So I walked in and was immediately greeted by the staff. Asked to remove my suit jacket, shirt and tie in a dressing room area & given a jacket/robe to wear. I was offered a cold beverage. My stylist for my appointment was Janelle.  I have to admit, I was skeptical about a woman providing me styling tips and performing services on my beard. I wanted to take in the full experience so I allowed J to give me her professional opinion on the services I should have done.  She said she felt as if I needed coloring added to my beard to provide a more fuller look. I'm thinking to myself this has to be a man law violation and a cheat code within the BeardGang! Being the free spirit I am, I agreed to it only under one condition, she leave my gray hairs alone in my chin area. She reassured me it was nothing more than a black rinse to enhance my beard. This service took no longer than 10 minutes. My beard coloring was followed up with a lovely beard wash & conditioning.... so lovely that I fell asleep. As an entrepreneur you tend to get very little sleep, so this was a good thing. My chair was very comfortable and the environment was tranquil, allowing me true relaxation. When I woke up, I noticed my beard looked fuller in areas where I have trouble with growth. I dare any of you to judge me! 
Next I was escorted to a private room for a facial. Within seconds of laying down on the table, having my beard massaged and combed, once again I was sleep! 30 minutes later I was awaken to a fresh, revitalized face! My beard was groomed perfect!!! I walked out feeling like a bag of money! 💰💰💰
So I know most of my followers/readers are wondering what's the cost... very affordable! So the beard coloring was $15 and the facial was $45 (45 minute treatment that included cleansing, exfoliation, hydration & rejuvenation with a neck, shoulder and scalp massage). If that's too expensive for you stop reading and log off. Really as men sometimes we need to take time for ourselves to relax and make sure we are being taken care of instead of always making sure everyone else is good. 
So my suggestion is book an appointment and allow yourself to relax and take the advice of a woman stylist who knows what she is doing and what women want! Ladies feel free to add this to the list of things you can do for your man. I get the question all of the time... What should I do for him? Get him a gift card to 18/8, buy him some beard butter from Creative Culture, a custom comb/brush/pick, beard shampoo & beard soap! 
Thanks Janelle and Michelle for a great experience! See you again very soon! 
Share this